Alamo City Gold & Silver
and SA DIAMONDS
David and Charlotte Putnam are the owners of Alamo City Gold & Silver Exchange, and sadiamonds.com. The Putnam's have been
in business in San Antonio since 1984. David Putnam is a retired detective with the San Antonio Police Department serving 20 years.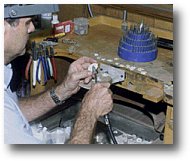 At Alamo City Gold, we are most concerned
with creating and selling the highest quality pieces we possibly can. Our prices reflect that attention to detail you may not find with other stores. Our creations are one of a kind, handmade, customized designs and are truly some of the best in the world!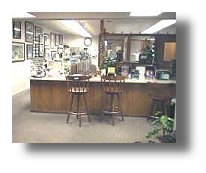 By going to our website, www.sadiamonds.com you can click on links that will take you to catalogs containing over 40,000 jewelry items. There you can order over the web or call toll free 1 866-333-3715 or email us, and we can order the item for you.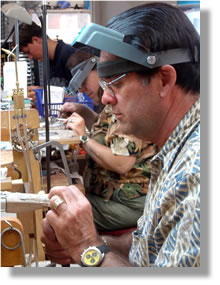 Our Team consists of just a few key people. Many of whom have been with us for over a decade! We like to think of it as a family. Of course, we have the owners David & Charlotte Putnam along with two jewelers, Norma Gomez and Steve Stack. For sales and web management we have Darrell Brown and Katsy Joiner. David Putnam manufactures the custom badges as well as other custom jewelry creations. Raul Perez is our graphic designer.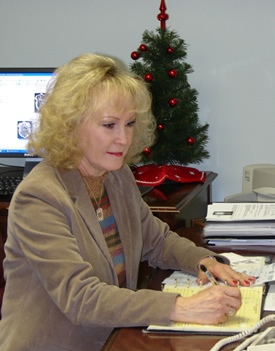 Charlotte takes care of everything behind the scenes, the finances & bookkeeping, accounts receivable and payable, office and store maintenance supplies and business promotions. She also handles the seasonal look in the store. She fills in whenever needed for taking orders and handling sales.
Last but not least, she helps keeps David in line!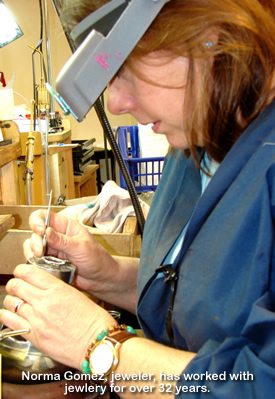 Norma Gomez has worked as a jeweler for over 30 years, and really enjoys creating unique pieces. She began learning her craft at the tender age of 19, while carving waxes for a large manufacturing company. She falls more in love with creating precious pieces each and every year she continues her work.
Steve Stack first began fabricating his original silver jewelry pieces back when he was 17 yrs old. He first began with Sterling Silver, turquoise and coral and now Steve can expertly handle every step in the manufacturing process. He especially enjoys the designing and hand carving of the waxes for one of a kind custom creations. He started working with David at Alamo City Gold & Silver in 1986.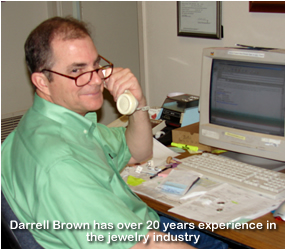 We also have Darrell Brown for both in store and online sales. Darrell began working in the jewelry business over two decades ago. He enjoys working one on one with each and every client. He always has a smile for everyone and is ready for any task needed do get the job done
Our part time webmaster and sales support is Katsy Joiner, she works extra hours during the holiday season and we really appreciate the extra help at Christmas. Katsy first began working for David & Charlotte over ten years ago as a sales assistant.