Alamo City Gold & Silver
and SA DIAMONDS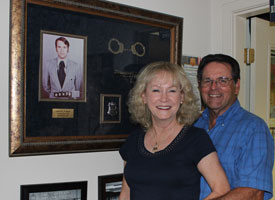 David and Charlotte Putnam are the owners of Alamo City Gold & Silver Exchange and sadiamonds.com. The Putnam's have been in business in San Antonio for over three decades. The company opened its doors in June of 1984 on Perrin Beitel Road and moved to a larger, family owned building on N. E. Loop 410 in May of 1995. Alamo City Gold is a full service jewelry store offering repair service and custom designs. At Alamo City Gold, we are most concerned with creating and selling the highest quality pieces we possibly can. Our prices reflect that attention to detail you may not find with other stores. Our creations are one of a kind, handmade, customized designs and are truly some of the best in the world!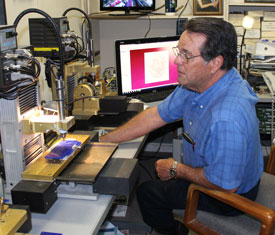 David earned a degree in Law Enforcement from Texas State University and served in the military as a 1st Lieutenant in the US Army. He retired as a vice detective in 1990 having served 20 years for the San Antonio Police Department. Prior to retirement, he opened Alamo City Gold & Silver Exchange. David oversees all aspects of the jewelry business. Because of the years he spent as a police officer he is dedicated to honoring the lives of fallen law enforcement officers all over the country by designing and donating an End of Watch badge pendant to the family of a fallen officer.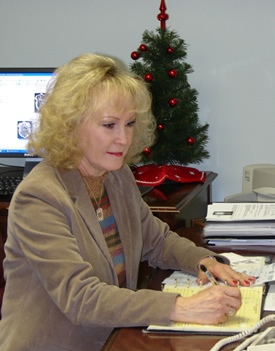 Charlotte joined David a year after the store opened and takes care of everything behind the scenes, the finances & bookkeeping, accounts receivable & payable, office & store maintenance supplies, and business promotions. She also makes everything festive by taking care of the seasonal store decorations. Her passion though lies with Notre Dame and is reflected in the Notre Dame Fine Jewelry part of the business. Because of her love for all things Notre Dame, in 2006 Charlotte applied for a license to design, manufacture, and sell jewelry representing the University of Notre Dame. She was granted a Campus License and for 7 years sold their line of Notre Dame jewelry through the Alumni Association on campus. She applied for and was granted a national license in 2015 enabling Alamo City Gold to sell directly to the public. Last but not least, she helps keeps David in line!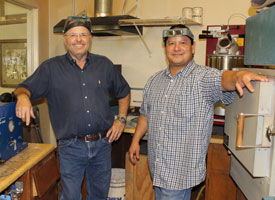 Their team is like family and consists of just a few key people who have worked with them for many years.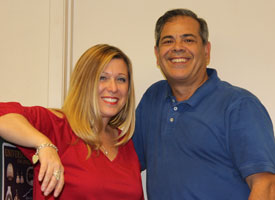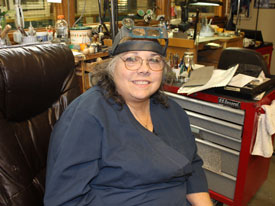 They include four jewelers and one office manager/graphic designer.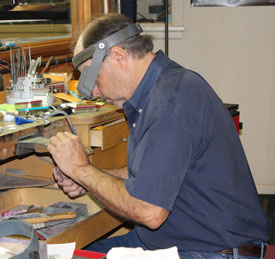 Steve Stack - Steve has been a jeweler for about 40 years. He began fabricating his original silver jewelry pieces back when he was 17 years old. He first began with sterling silver, turquoise and coral and now expertly handles every step in the manufacturing process. He especially enjoys the designing and hand carving of the waxes for one of a kind custom creations. Steve started working with David & Charlotte in 1986.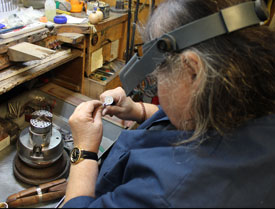 Norma Gomez - Norma has worked as a jeweler for over 40 years, and really enjoys creating unique pieces. She began learning her craft at the age of 19 while carving waxes for a large manufacturing company. Her favorite part of being a jeweler is creating unique, one of a kind pieces for our customers. Norma started working for David & Charlotte in 1995.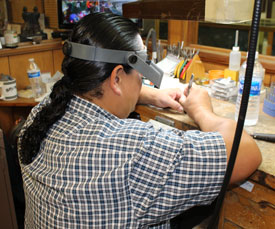 Byron Rojas - Byron is a 3rd generation jeweler and has been in the business for over 35 years. He started working when he was only 14 years old in Guatemala, moved to the United States at the age of 19, and has been at it ever since. His specialties include setting stones and working with platinum, gold, and sterling silver. He is a true craftsman. Byron started working for David & Charlotte in 2009.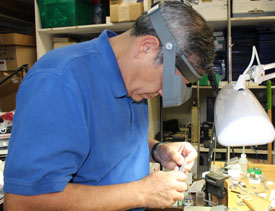 Chris Brightman - Chris has been in the jewelry business for almost 40 years and is our resident comedian, keeping us all in stitches each day. He started in the jewelry business at the age of 19. He takes care of many of the store's jewelry repairs but has other responsibilities to include custom jewelry work, in-store and online sales, shipping, helping to handle phone calls, and ordering jewelry findings and diamonds. Chris started working for David & Charlotte in 1985, left for a short time, and is now back where he belongs!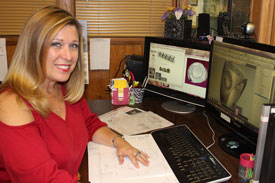 Stephany Hedgepeth - Stephany is the newbie of the group. With over 20 years of customer service experience, she has a wide range of responsibilities to include wholesale account manager, in-store and online sales, graphic design for brochures/mailings and store window advertisements, 3D modeling/graphic designer for new and existing Law Enforcement badge pendants and rings as well as special request custom jewelry pieces, and webmaster. When you call in to the store, she is the voice you're likely to hear. Stephany has been working for David & Charlotte since 2014.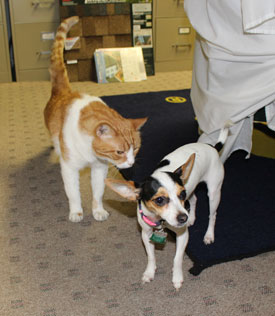 Max & Mia - Max is our resident cat and has been at the store since 2005 and Mia has been coming to the store each day with Chris & Stephany since 2015. They bring a cozy kind of atmosphere to the store and keep us all sane! Our customers even come in asking to see them and sometimes bring them treats!