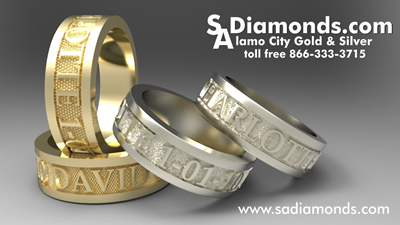 Each custom design wedding ring is manufactured to your specifications, making it a unique, one of a kind, handcrafted creation.
These rings weigh anywhere from 10 to 15 grams in 14Kt gold. They can be made in sterling silver, 10Kt, 14Kt or 18Kt yellow or white gold.
Visit us in the store to discuss your custom ring idea with one of our designers or jewelers.
Artwork
Artwork fees are required up front and NON-REFUNDABLE.
Pricing
Custom wedding ring prices vary depending on many different factors including metal, karat, size of the ring, stones, etc.*
Engraving
Inside engraving may be available if ring design allows up to 15 characters for $40.00.
Schedule Consultation
With so many customization options you can create, we would like to be able and answer any questions you may have. You can call us any time during our hours of operation 10am – 6pm M-F CST.
Or if you prefer, one of our master jewelers can contact you on a preferred date and time.

*Prices may be subject to change due to market fluctuations.